After an unsuccessful stint in the movies with Rok Sako To Rok Lo and Yeh Kya Ho Raha Hai, Yash Pandit will be seen in Star Plus' popular television soap, Kyun Ki Saas Bhi Kabhi Bahu Thi. The actor has replaced Pulkit Samrat, and is now playing his character, Lakshya.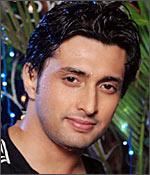 Yash Pandit
A few months ago when Pulkit walked out of Balaji Telefilms, Yash was anything but the obvious choice since he was neither a television star nor a successful movie star. So how did he bag the role? "Balaji was looking out for the new Lakshya and they got in touch with me. When I met Nivedita Basu, creative head of Balaji, she discussed several roles with me, including Lakshya. I took an instant decision and asked for Lakshya's role. This character is the most positive character in the Virani family and most popular one after Baa and Tulsi," Yash says.

"I was not aware of how popular the character was. I was only aware of Pulkit stepping down because of some personal reasons," he continues. "I have not watched every episode of the serial before I joined, but I watched a few. Many of my aunts watch this serial and I managed to catch a few episodes."

But isn't he moving away from the big screen? "Not really," he says. "So many actors have done that. Ever since Amitabh Bachchan stepped into television, the importance of this medium has changed. Even now, stars like Akshay Kumar , Shah Rukh Khan and Salman Khan are working on the small screen. It means a lot in terms of money and popularity.

"Nothing went wrong with my career," he clarifies. "I am an actor and for an actor, it's not good to be jobless. But yes, the big screen has its own charisma. I have a film lined up with Rituparno Ghosh, which will start early next year.

"As of now, I am concentrating on Lakshya. Three or four months down the line, I may take a part in a reality show," he informs. "Working for India's top production house in the most popular serial is a big achievement for me. And people here are unbelievably helpful, including Smritiji [Irani]," concludes Yash.